Home Improvements with Concrete
Ideas for New Concrete Outside (and Inside) the Home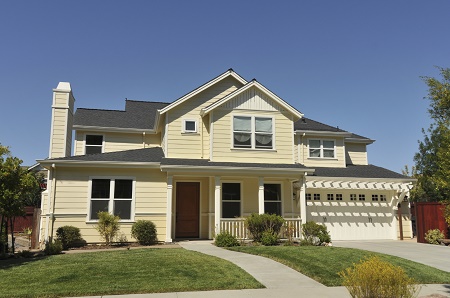 Whether you're planning on selling your home and want to help move the sale or you want to improve a specific area of your home, concrete is a durable and aesthetically appealing choice for many homeowners. Utilized in many ways, concrete will improve the strength and appearance of your home inside and out. From new patio installations to driveway repairs, a fresh new concrete installation will go a long way, both in value and appeal.
Concrete Walkway Installations
Let's start with the path leading to your home. Your front walkway is a very important aspect of your home as it is the first thing visitors, potential buyers and neighbors see when they arrive or pass by. With Dornbrook Construction, you can now make it the best part of your home. From stamped and decorative concrete walkways to traditional concrete poured walkways, the Dornbrook Construction team will exceed your highest expectations when it comes to a new concrete walkway installation. Browse our residential concrete installation gallery now to see some of our recent work.
Driveways Repairs and Installations
A driveway is part of your home's exterior seen by everyone visiting your home. Driveways also get the most wear. From Wisconsin's harsh winter elements to continuous foot and vehicle traffic, your driveway will deteriorate in time and will eventually need to be replaced. If your driveway is cracking under pressure, turn to the driveway repair experts at Dornbrook Construction today for a high quality and affordable solution. If your driveway has seen better days, it's best to replace it. Cracked, raised or sunken driveways are unappealing, unsafe and in time, can damage your cars.
Concrete Patios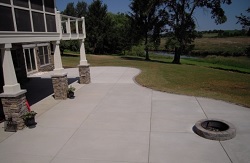 Patio installations are a great asset to a home for many reasons. Not only does a patio enhance your home's aesthetic appeal, it offers added space to relax outside of your home. Whether you entertain often or are a bird watcher, patios are a great opportunity to enjoy the outdoors in the comfort of your own home. With the endless amount of concrete patio designs our team is capable of, you're certain to fall in love with your new concrete patio. From concept to completion our concrete contractors of Menomonee Falls will work with you every step of the way to ensure your new patio is exactly what you envisioned. Check out our gallery now for some unique concrete patio ideas.
Garage Flooring
Garage floors are often overlooked when it comes to enhancing the value of your home. Stained, cracked, or uneven floors are unattractive and unsafe for your vehicles. A new garage floor installation can go a long way. Not only will you appreciate the benefits a new garage floor offers, you'll appreciate the value it adds to your home. Whether it's an epoxy coating or an overlay, concrete flooring is ideal for garages. Built to withstand everyday wear and tear along with deteriorating elements like salt, snow and dirt, concrete is a highly durable solution for an attractive garage floor.
If you need a new concrete installation in or outside of your home, Dornbrook Construction will get the job done in an affordable and highly professional manner.
Back To Blog