Milwaukee's #1 Hydronic Heating Contractor
If you're searching for energy-efficient heating options for your renovation or new build, hydronic radiant concrete flooring is the practical and economical solution. Whether you need concrete flooring for your garage, home or business, adding a hydronic radiant heating system will deliver evenly distributed heat and huge savings on your energy bills, plus mold & mildew defense. At Dornbrook Construction, we install your hydronic radiant concrete with the highest quality workmanship so you get the most out of your property and love your investment every day. Get a free quote on hydronic radiant heating for your concrete floors.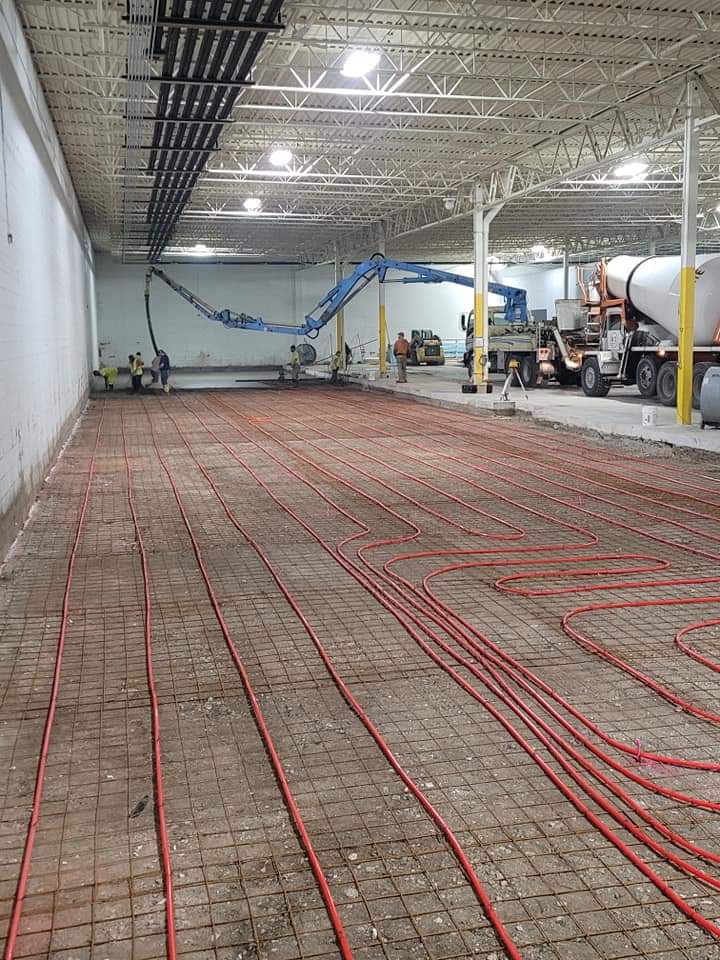 Dornbrook Installs Hydronic Heating Systems for Concrete Applications
Keep your concrete free of salt and plow damage with snow-melting heating power
Industrial, Commercial and Residential Garages & Shops
Maintain a comfortable and dry workplace for yourself and your employees
Residential Polished Interior Floors
Enjoy luxurious, energy-saving direct heat- keep your family cozy & warm
Commercial Interiors and Small Businesses
Save square footage and $$$ on heating bills by warming rooms directly
What is Hydronic Heating?

Hydronic heating, also commonly referred to as radiant heating or radiant floor heating, is a heating system that uses hot water to transfer heat throughout a space. Radiant heating typically involves a central boiler that heats the water and a circulator pump that moves the water through a network of pipes or tubes installed within floors, walls, or radiators.
Hydronic Heating System Highlights
Best placed underneath concrete for efficient heat up and heat retention
Higher start-up costs but is up to 70% more efficient than electricity-dependent systems
Eliminates temperature variations and drafts with uniform heat distribution
Offers zoning capabilities with independent temperature control for each space
Benefits of Radiant In Floor Heating
Runs cleaner and creates less turbulent air for cleaner spaces
Quieter than forced air systems and eliminates drafts
More durable with fewer moving parts and less required maintenance
More adaptable and consistent in heat distribution
Added versatility to heat walls and floors at once
Reduced risk of fire with no exposed flame or electrical wires
What are PEX Tubes? Are There Other Options for Hydronic Heating Pipes?
PEX tubes are flexible plastic pipes made from cross-linked polyethylene commonly used in hydronic flooring. Other options for piping in your hydronic heating system include:
PVC Pipes
ABS Plastic Pipes
Lead Pipes
Ductile Iron Pipes
Steel Pipes
Copper Pipes
Every application has a specific set of advantages and challenges to work with. Our highly experienced team of professional installers will work with you to select the best materials to suit your unique property.
Do I Have to Worry About My Hydronic Heated Floor Leaking?
As with everything involving water, there's always a risk of leaks. With proper professional construction, installation and insulation, the risk of leaks is minimal. Hydronic floors require no maintenance and often function optimally for 20+ years with the average system lasting an impressive 50 years.
Why Choose Dornbrook Construction for Hydronic Concrete Heating Installation?
Dornbrook Construction specializes in the professional installation of hydronic radiant heating systems for residential and commercial concrete flooring in and around Milwaukee, Wisconsin. We are fully licensed and insured with over 15 years of experience in the concrete industry and an A+ rating from the Better Business Bureau.
At Dornbrook, we want you to enjoy a more comfortable life and save time, stress and money in the process. Choosing an energy-saving hydronic radiant heating system for your concrete installation is the smart financial and environmental move for building or renovating your home, business and garage.
We personalize our service so you get the right system for your unique budget, ideas and needs, guaranteed.
Dornbrook Construction installs hydronic concrete floor heating systems in properties across Southeastern Wisconsin, including in Menomonee Falls, Wauwatosa, Brookfield, Germantown, Delafield, Whitefish Bay, Mequon, Waukesha, Oconomowoc, Lake Country, and beyond.
Back To Blog