Machine Base Foundations
Stable Concrete Machine Foundation Installation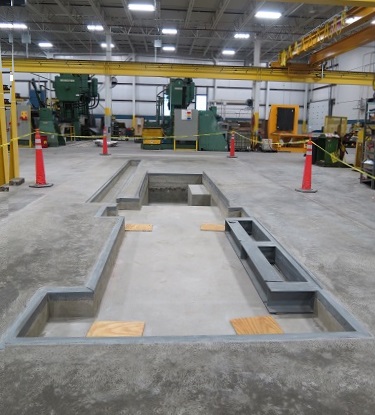 Dornbrook Construction installs machine base foundations for Milwaukee area businesses. This reinforced concrete flooring provides a solid base for operating heavy machinery. Our contractors have more than 25 years of experience with concrete and do everything possible to ensure your new foundation meets all industry requirements.
By working with Dornbrook, you get reinforcement where you need it. We can remove and install machine bases only where you need them. This saves time and money as the majority of your existing flooring will not need to be replaced. We work efficiently to meet your production schedule and minimize facility downtime.
Benefits of Concrete Machine Foundations
Protect floor integrity
Reduce machinery vibrations
Provide a flat work surface
Provide balance for machines
Low cost
Long-term benefits
Placing heavy machines on concrete floors without reinforcement is a workplace safety hazard. Industrial facility flooring undergoes a lot of daily wear and tear; large machinery is capable of damaging the very foundation if there is not adequate support. Vibrations for machine work can lead to concrete cracks or cause the machine to tilt off its axis. This can make operation dangerous if parts are no longer aligned correctly.
Machine base foundations are reinforced with meticulously laid rebar before we pour any concrete. The rebar allows the machine weight to be evenly distributed without placing too much force on a single spot.
Machine Base Flooring Replacement
If your company has been in business for years, the flooring under your machinery has likely weakened over time. The machine might begin to "sink" as the original flooring can no longer support the full weight. Or you may begin to notice cracks emanating from beneath the machine. This is all a result of the operating equipment damaging the ground it's on including the building foundation.
A brand new, reinforced base for your machinery is the best replacement option. Dornbrook concrete contractors will handle every step of replacing your broken and damaged floor with a stronger foundation.
The Best Wisconsin Concrete Contractors for Reinforced Flooring
The exact dimensions of your concrete machine base will vary depending on the machines you will be using and your facility space. Our contractors know which type of foundation will be best for your facility.
With the skillset and experience necessary to perform any sized job on time and on budget, you get great savings by working with Dornbrook contractors. When your warehouse or business need concrete work, turn to Milwaukee's very own commercial concrete contractors.
Contact Dornbrook Construction for a free estimate on machine base installation in Wisconsin.