Commercial Concrete Construction in Milwaukee Includes Repairs and Replacement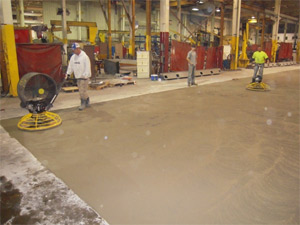 Dornbrook Construction prides ourselves in the experience and knowledge we've gained in the Milwaukee commercial concrete construction industry. We have been a concrete contractor in the Milwaukee area for over 25 years. Our attention to detail, combined with our experience and knowledge delivers a superior product for our commercial customers.
We complete construction projects accurately from start to finish, causing minimal disruptiveness to a business's operation. From epoxy floor coatings and concrete overlays to masonry work, Dornbrook Construction will support your business's productivity with a variety of building improvements.

Skilled Concrete Contractors in Southeast Wisconsin
Whether you need to enlarge an opening to accommodate your forklift or need a new loading dock concrete driveway, our New Berlin concrete contractors have the experience to complete your specific needs. Our skillset entails a comprehensive landscape of commercial construction type services all performed with the highest quality of products. Our commercial concrete replacement services will also increase the value of your property while providing a compelling entranceway for visitors. Learn about our extensive experience with commercial concrete construction for Wisconsin businesses.
We offer a wide variety of commercial concrete construction services including:
All interior and exterior flatwork
Concrete resurfacing, overlays
Cast in place concrete with reinforcement
Removal and replacement of existing concrete, asphalt, and subsoil
Decorative Concrete for Commercial Facilities
There's more to concrete than gray slabs when you contact Dornbrook Concrete Construction. Our decorative concrete installation services provides your Milwaukee area business with the ultimate "wow" factor. From factory floors to exterior sidewalks and parking lots, we will transform your concrete into something special. We use a variety of techniques, including stamped overlays, to create the right look for your facility.
Unique designs let you customize the appearance of your business inside and out. Our contractors have experience with all sorts of creative designs to improve your concrete's appearance. Not only does decorative concrete flooring look great, it's durable too.
We have provided decorative concrete for all sorts of businesses for many different uses, including: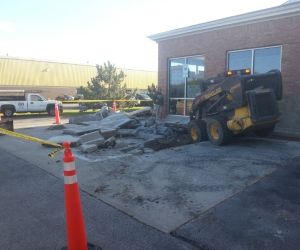 Commercial Driveways
A concrete driveway is the best way to invite potential customers and clients to your business. Our professional installation will leave you with a reliable driveway. We will account for changes in grade to provide a smooth, flat surface. The thickness of the concrete will depend on the type of traffic you expect.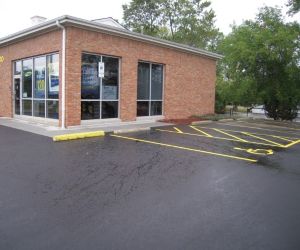 Commercial Parking Lots
Just like driveways, parking lots take a lot of heavy traffic over their lifetime. Fortunately, concrete from Dornbrook will making your lot stronger than ever. Whether you have a small parking area or a large one, our decorative concrete will give your business a personalized appearance.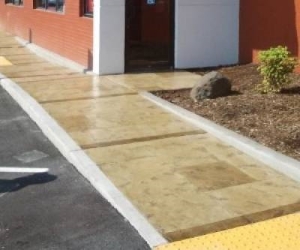 Sidewalks and Patios
Concrete sidewalks are an easy and affordable way to add literal curb appeal to your store or restaurant. If your business has outdoor areas, like a patio eating area for a café, decorative concrete will create a polished look for your property. Pathways are also useful for keeping customers off of your landscaping.
Indoor Areas
Decorative concrete flooring and flatwork is suitable for offices or meeting areas.
Concrete is not limited to being used outside. Many commercial properties use concrete floors due to their strength and durability. If you operate heavy equipment, a concrete floor will be able to handle the wear and tear.

If you own a large commercial property with several businesses present, having concrete features can connect all the buildings together.
Concrete Repairs and Replacement in Milwaukee
Along with installing new concrete features, Dornbrook Construction contractors handle concrete replacement and repairs. We know how dangerous wide cracks in concrete can be, so we provide efficient replacement to restore the strength of your concrete.
Wisconsin concrete has to contend with the freeze-thaw cycle. This is when water continually freezes into ice and then melts again over the course of winter. The expanding ice puts pressure on anything near it, including concrete. With time, the ice can create wide cracks within a concrete slab.
Our professional concrete contractors will do everything possible to provide efficient and affordable replacement. Whether the cracked concrete is inside your business or outside the property, we are ready to get your concrete features back into shape.