Best Material for Long Lasting Driveways in Wisconsin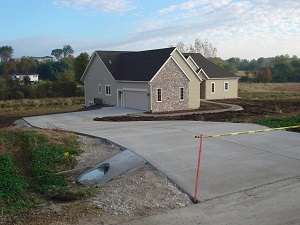 How to Make Concrete Last Longer
Concrete Installation Provides Homes and Businesses Decades of Results
If you're looking for a long lasting driveway, sidewalk, patio, or interior flooring option, concrete is the answer. In Wisconsin, properly installed concrete should last for 30 years. Unfortunately, many inferior Milwaukee concrete contractors will cut corners, resulting in concrete which is prone to cracking or surface issues. Dornbrook Construction takes pride in providing the best concrete installation in the state, giving you the long lasting results you need for your home or business. Learn more about why concrete is the best for decades of great looking driveways, sidewalks, and interior floors.
Concrete vs Asphalt Driveways
Concrete already has a long lifespan when used in driveways and parking lots. When compared to asphalt, concrete is the clear winner since it lasts longer. On average, concrete will last ten years longer than asphalt. While it is faster to install an asphalt driveway, the savings of a decade are hard to ignore.
Concrete is easier to maintain as well. Asphalt is more prone to developing pot holes and cracks while concrete is able to withstand more traffic. An asphalt driveway will be incredibly hot during summer months by absorbing sunlight while concrete will provide more even temperatures.However, the greatest advantage offer by concrete is its aesthetic appeal. If concrete is stained, the stain can be removed with the right cleaning. Decorative concrete uses different textures and colors to upgrade your home or business with a professional quality finish.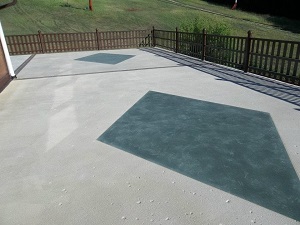 The following features will last longer with concrete from Dornbrook Construction:
Pool deck
Garage
Driveway
Sidewalk
Patio
Steps
Basement floor
Interior floors
The Importance of Concrete Maintenance
Since concrete has such a long lifespan compared to other flooring materials, it is important to provide regular maintenance. With proper care and ideal conditions, your driveway, floor or other flatwork will last even longer. Follow our concrete maintenance tips to keep your concrete looking beautiful for decades.
Adding Epoxy for Longer Concrete Use
With almost 30 years of use, it might not seem necessary to use anything else with your concrete. Adding an epoxy coating will further protect your concrete, extending the lifespan of your flooring even more.
Better Concrete Driveway Installation for Longer Results
Dornbrook Construction can install a pristine concrete driveway for your Southeastern Wisconsin home or business. We will prepare the worksite for your concrete and lay the forms to guarantee a straight, level project. We pour low chert concrete with care and finish it with a level of workmanship unmatched by local competitors. Your new concrete patio, outdoor stairs, and walkway will look great and last for up to 30 years, as properly installed concrete should.
Back To Blog