Replacing your Milwaukee Driveway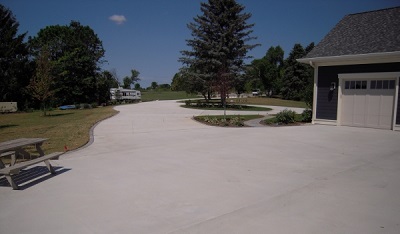 Driveway Repairs add Property Value
Dornbrook Construction offers premium concrete driveway repairs and replacements in Milwaukee. The quality of materials our concrete driveway repair installers utilize along with superior workmanship provides flawlessly smooth driveway placements. Our driveway installations are warrantied to withstand the continuously changing weather Wisconsin brings us. Dornbrook Construction's concrete driveway services include concrete removal and replacement of your existing concrete. We will properly cure and seal your concrete to give it the strength it needs to provide a long lasting service life.
Dornbrook Construction's Concrete Reasons to Repair your Driveway
If you have existing cracks in your driveway we recommend a new concrete driveway. Cracks allow water to accumulate causing further cracking and future costly repairs.
Cracks in your driveway create opportunities for weeds to grow. Weeds are an unsightly curb appeal which will lower your property value.
Large driveway cracks can cause progressed vehicle wear and tear.
Cracks in your driveway can be a safety hazard putting family and friends at risk.
Improperly sealed driveways may result in surface deterioration of concrete. With our harsh Wisconsin climate, surface deterioration is more common for property owners thereby requiring concrete sealer. Reduce the chance for cracked driveways by hiring the professional Milwaukee concrete contractors from Dornbrook Construction. Dornbrook Construction respects your property. In so doing, our concrete installers ensure to leave your property cleaner than it was before.
Contact Dornbrook Construction today for concrete tips and tricks to increase the longevity of your driveway.
Back To Blog