Concrete Maintenance Tips Improve Durability and Service Life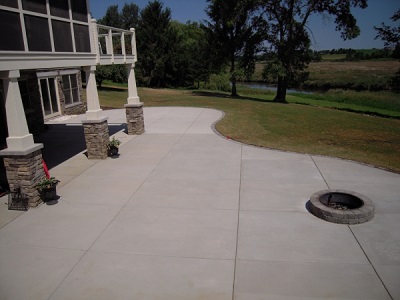 It's our goal as the best concrete driveway contractors in Milwaukee to help you maintain beautiful concrete now and for years to come. This page is a great resource for driveway maintenance or any new concrete placements. Dornbrook Construction's concrete tips and tricks are helpful concrete tools to utilize as needed.
Do not drive on new concrete for at least 7 days or walk on it for 36 hours
Don't allow drain water to undermine the slab and cause settlement cracks
Do not allow snow and ice to build up on the surface – remove them as soon as possible
Refrain from the use of salt or calcium chloride de-icing chemicals (even when de-icing chemicals are not used they can be inadvertently carried on the undercarriage/tires of your vehicle from public roads onto to your driveway)
It is imperative to properly maintain your driveway to protect it from surface deterioration due to de-icing chemicals (broom off these areas where the salt drops off of vehicles
Sealing of concrete is also recommended
Use sand for traction the first winter
Never use rock salt
Avoid placing items on concrete which hold moisture against it as it may cause surface deterioration and discoloration (two examples would be door mats and flower pots)
Wisconsin is a severe weather region; therefore it is especially important to seal your concrete (sealer can be purchased from your local Milwaukee concrete supplier)
Be sure to follow the manufacturer's directions for application rates and intervals
With every concrete construction service job, our concrete contractors will provide you with a full list of maintenance guidelines to support longer lasting concrete.
Back To Blog