Concrete Driveway vs Asphalt
Concrete Contractors Milwaukee Relies on for Asphalt and Concrete Facts

Making the decision to install a new driveway involves many factors which tend to get overlooked. Deciding when to install your new driveway, what company to use and even what type of driveway are all substantial decisions. Dornbrook Construction continues to receive inquiries regarding these questions. To help make your new home improvement decision simple, we provided all the necessary information needed to choose between a new asphalt or concrete driveway installation below. When considering all the aspects, it's important to understand the facts.
Asphalt vs. Concrete: Which is Better?
As Milwaukee's leading concrete company, we have years of experience in driveway repairs and installations. Below you will find the pros and cons of asphalt and concrete.
Asphalt Pros and Cons
Pros
Asphalt is less likely to crack in cold climates
Asphalt driveways are less expensive than concrete driveways
Asphalt doesn't show stains like concrete
An asphalt repair usually just requires re-layering rather than removing and reinstalling
Cons
Asphalt has a short lifespan, much shorter than concrete
Asphalt requires a higher level of maintenance and needs to be "resealed" every couple of years
The texture of asphalt changes with heat, turning soft on hot days
Asphalt tends to be rougher around the edges whereas concrete has a smooth finish
Asphalt has less options for appearance while concrete has many
Asphalt devalues a home
Concrete Pros and Cons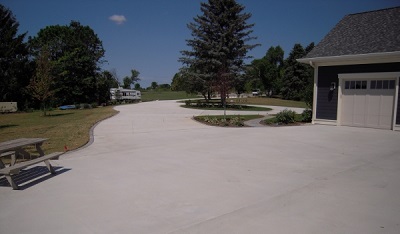 Pros
Concrete lasts longer than asphalt, typically around 30 years in Wisconsin
Concrete requires low maintenance
Concrete texture remains consistent in hot and cold climates
Concrete can be upgraded with many different textures and colors offering a premium, exterior finish to your home
Cons
Concrete can crack with time
Certain agents like salt can damage concrete
Concrete can stain however stains on concrete can be removed
Concrete costs more than asphalt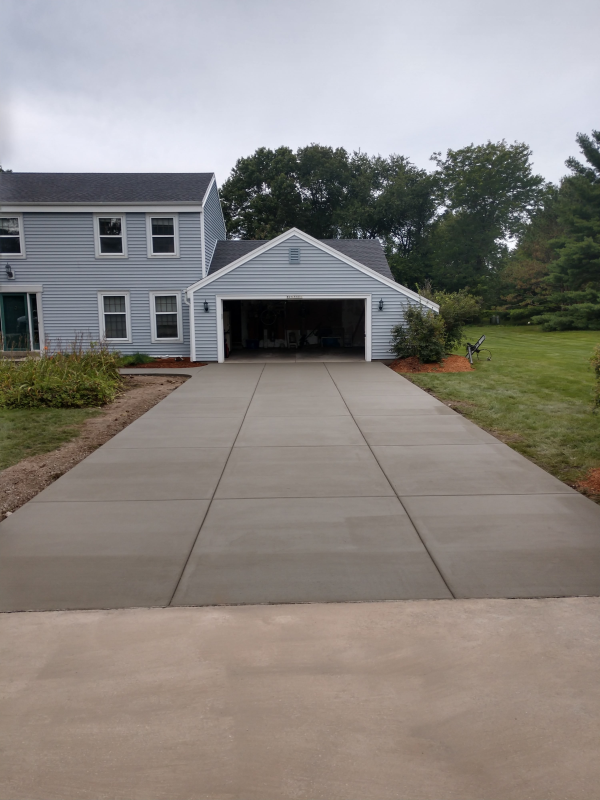 For many residential and commercial owners, concrete is the paving material of choice. In addition to the pros listed above, there are many characteristics commonly preferred with concrete.
The smooth, durable finish concrete provides is one the most favorable features. Concrete is more versatile when it comes to the numerous activities which take place on a driveway. Concrete does not absorb the sun's heat and is smooth all around the edges. So whether it's playing basketball or cooking out, concrete driveways offer a safer family solution.
Simply stated, you get more for your money with a concrete driveway installation. A concrete driveway can cost anywhere from 40-60% more than an equivalent asphalt driveway yet will have a much longer lifespan. When cost is measured and compared over each lifespan, the two driveway types are unparalleled.
For a long-lasting, high-quality driveway, Dornbrook Construction draws in clients from throughout Southeastern Wisconsin including, but not limited to...
Fond du lac
Jefferson
Kenosha
Milwaukee
Ozaukee
Racine
Walworth

Washington
Waukesha
Dane
doge
Sheboygan
and the surrounding communities
Contact Dornbrook Construction today for a free quote on your concrete installation needs. Improve the value and appeal of your home with a new driveway.
Back To Blog