Concrete Contractors Milwaukee Utilizes all Year Round
Concrete Installation in Winter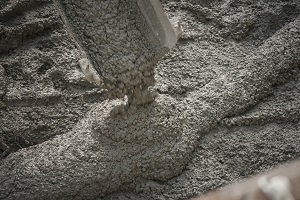 Many people assume concrete work is to be done during the warm months only. This misconception is only true during extreme cold temperatures. Freezing temperatures prevent concrete from curing and hardening properly. While concrete can be successfully poured in cold weather, several precautions need to be taken. Dornbrook Construction ensures these procedures are followed all winter long.
Our concrete contractors never pour concrete on frozen ground, snow or ice and we make certain to order air-entrained concrete. Requesting a heated mix or ordering 100 lbs. of extra cement for each cubic yard of concrete is also necessary during the cold winter months. This extra cement helps develop strength early on in the process. By also utilizing concrete with a low slump (drier mix) we minimize bleed water.
After the final finish is completed, our concrete installers cover the concrete with plastic and insulated blankets. This added warmth will help cure the concrete. After 7 - 10 days, the plastic can be removed to allow the concrete to air dry.
For a successful concrete installation, concrete must be maintained above 40 degrees Fahrenheit. When temperatures do drop, hot water and either calcium chloride or a non-chloride accelerator are commonly used to help assist with curing. Calcium can cause color variation in the concrete, and is not recommended if there will be any steel in the slab. Dornbrook Construction takes the necessary precautions to successfully install concrete in winter. With our extensive experience in concrete installations, we stand behind our jobs all year round.
Concrete Installation for Winter Home Improvements
Dornbrook Construction provides a wide-range of concrete installations for both the exterior and interior of homes. If you are looking to improve areas of your home this winter, the best place to start is your flooring. A new concrete floor installation will dramatically transform any room. Whether it's your garage floor, basement floor or your kitchen in desperate need of a makeover, Dornbrook Construction is here to help. Concrete overlays, resurfacing or epoxy floor installations are great opportunities to provide a durable floor with a high-end finish. With a variety of patterns and colors, you'll be amazed with the finished product and its unique features. A concrete floor, whether it's an overlay or epoxy, will resist wear and tear in high traffic areas. Browse through our gallery now to see the transformation our Milwaukee concrete contractors have skillfully completed for residents and business owners throughout Wisconsin.
Contact Dornbrook Construction today for a free quote on a new concrete floor installation.
Back To Blog