Garage Floor Repairs Milwaukee Residents Turn to for the Best Solutions
Garage Floor Contractors Replace, Repair and Resurface Concrete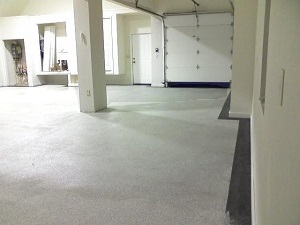 Garage floors in time, need to be repaired. From heavy traffic to various elements like moisture, salt and oil, a garage floor undergoes heavy wear and tear especially in Wisconsin.
Garage floor pitting is a common issue homeowner's experience. This pitting occurs from moisture, freezing and thawing, along with damage caused by salt from vehicles. When water freezes it expands therefore causing concrete to expand and deteriorate. Concrete pitting can be prevented by investing in an epoxy floor system or a high quality concrete sealer for your garage. Many homeowners ignore this option as they do not find it to be important. Having an unprotected garage requires residents to become more conscience of when water and salt enters their garage, especially during the winter. If you notice water and deicing salts in your garage, Dornbrook Construction highly recommends wiping it up as soon as you can. Immediately eliminating moisture and salt build up in your garage will help to prevent your garage floor from pitting.
In the event you have a pitted garage floor, turn to Dornbrook Construction to replace or resurface your garage floor. We will transform your distressed looking garage floor into a beautiful, new garage slab.
Replacing Existing Garage Floors
If your garage slab needs repair, Dornbrook Construction has years of experience replacing garage floors. Our residential garage contractors have the skillset necessary to repair even the most damaged garage floor. Trust us, we've seen and repaired it all, big and small.
From leveling the garage floor to using the proper concrete sealer, we don't take any shortcuts. Utilizing the highest quality of materials ensure our concrete jobs stand the test of time.
Garage Flooring Options
Whether you prefer an epoxy floor coating, resurfacing or a complete removal and replacement of your existing garage floor, Dornbrook Construction will make your visions real. We will discuss all options available and what would best suit your needs. Our concrete and epoxy installations significantly increase the value of homes while adding the aesthetic appeal it may lack.
Back To Blog