Concrete Flooring for Commercial Buildings in Wisconsin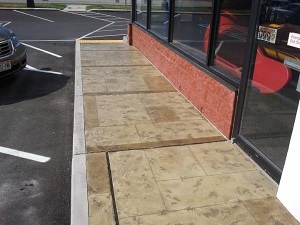 Concrete has many advantages over other flooring options, including:
Southeast Wisconsin Stores and Restaurants Rely on Concrete
Commercial facilities require reliable flooring to handle heavy foot traffic from customers and clients. Many Wisconsin business owners have turned to Dornbrook Construction to install interior and exterior concrete at stores, restaurants, and auto garages.
Durability
Easy maintenance and cleaning
Decorative appeal
Concrete is the Affordable Floor for Businesses
Flooring can be expensive, especially if you have a lot of square footage. A free online estimate from our concrete experts will tell you exactly how much you can expect to pay for your new flooring.
Over time, concrete floors are more affordable than other flooring types including hardwood and carpet. Concrete lasts longer and is able to withstand more traffic without damage.
Interior and Exterior Commercial Concrete
Dornbrook contractors have installed new concrete for interior and exterior usage. Just some of the locations where concrete is an appropriate flooring include:
Restaurants
Museums
Retail stores
Warehouses
Manufacturing facilities
Hotels
Spas and salons
If you are looking for new flooring at a commercial location, contact Dornbrook today to learn about all of the benefits of concrete.
Improve the Appearance of Your Commercial Location
Decorative concrete adds beauty to your flooring without compromising strength. If your company deals with a lot of foot traffic, forklifts, or motorized vehicles, you need a floor to resist wear and tear and still look good. Dornbrook uses many different designs to create custom flooring from concrete.
If you want to add to the appearance of your concrete floors, epoxy coatings are available in a multitude of colors and patterns. This hardened resin can be applied directly over concrete for additional strength and resilience. Your concrete flooring will look great with Dornbrook Construction!
Contact Dornbrook Construction to learn more about adding concrete flooring to your commercial location.
Back To Blog