Industrial Concrete Parking Lot Contractors
Durable concrete parking lots for Wisconsin industries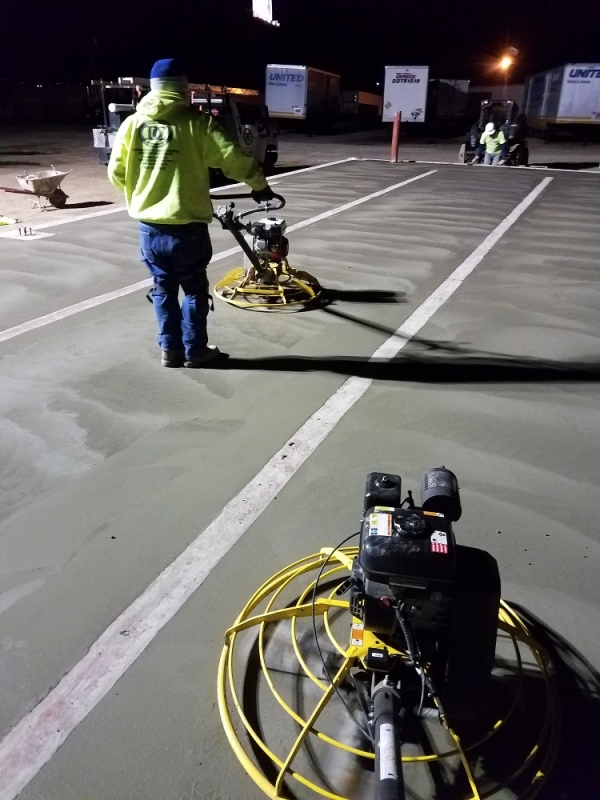 Installing an industrial parking lot is no easy task. Despite the lifetime of concrete ranging from 30-50 years, the lack of proper planning can lead to necessary repairs and replacements possibly decades ahead of time. This can lead to serious consequences when housing several hundreds or thousands of vehicles on a daily basis. Fortunately, Dornbrook is the leading industrial concrete contractor in the Milwaukee area, and we know how to properly install parking lots for Wisconsin industries.
Asphalt vs Concrete for Industrial Parking Lots
Although it seems cheaper to use asphalt for your industrial parking lot, concrete is the better and more cost-effective choice in the long run. Here is a short list of reasons for choosing concrete for your parking lot.
Durability - Concrete handles heavy loads far better than asphalt. 5 inches of concrete is equivalent to the strength of 8 inches of asphalt.
Maintenance - Asphalt requires re-layering every few years but concrete needs almost no maintenance, just some joint sealing and cleaning every once in a while.
Cost - The initial cost of asphalt is appealing, but the constant re-layering will eventually burn a hole through your pocket. The cost of concrete is a one-time deal for its lifetime.
There are many more reasons that make concrete more superior such as customization options and eco-friendliness. Learn more about asphalt vs concrete.
Southeast Wisconsin's Top Concrete Contractors
We don't just do parking lots - we handle all types of commercial, residential and industrial jobs for homes and businesses in Southeast Wisconsin. From neighborhood driveways to machine base foundations, there's no job too big or small for Dornbrook Construction.