Concrete Floors in Stores and Malls
Benefits of Concrete in Retail Locations
Retail locations in Wisconsin deal with a lot more than regular wear and tear. During winter months, salt and snow gets tracked all over the floors at stores and malls. This can lead to damage if your floor is not regularly cleaned and maintained. Fortunately, there is an affordable solution: concrete flooring, walkways, and driveways from Dornbrook Construction.
Grocery Stores
Grocery stores often have to deal with unique problems. Freezers can break down, food can be spilled, and there are always customers coming in. This constant foot traffic can wear away at carpets, linoleum, and wood flooring materials. Instead of constantly replacing and repairing your floors, get concrete!
Compared to other flooring options, concrete is stronger and easier to maintain. You won't have to worry about spilled food staining your floors. Carpets absorb liquids, making it harder to clean and prevent mold from growing underneath. Wood can easily be scratched by heavy shopping carts. By using concrete, you are protecting your floors in the long run.
Big Box Stores, Supercenters, and Warehouse Clubs
If you operate a big box store, durable flooring is a necessity. Your one-stop store needs to look great to continue to draw in customers. When properly poured by Dornbrook contractors, concrete will have a smooth finish, making it easy for customers and shopping carts to move around.
The strength of concrete can support a lot of weight, meaning you are free to stack the shelves as high as you want. Even if you sell in bulk, concrete will provide all the support you need. Your backroom and loading dock will greatly benefit from concrete, especially with many semi-trucks arriving throughout the day.
Shopping Malls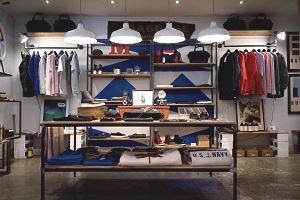 Shopping malls usually face issues with having enough parking for all their customers. Smooth concrete parking lots can prevent damage to cars from potholes. Sidewalks use concrete to provide a safe surface for customers getting to and from stores.
Affordable maintenance is another huge advantage for choosing concrete for your mall flooring. In winter months, all the extra holiday shoppers will track in snow and salt. This can quickly ruin carpet or hardwood. Concrete requires minimal maintenance and cleaning, even with heavy use. If your mall has a food court, concrete will make cleaning spilled food even easier.
Strip Malls or Outdoor Shopping Centers
If your shopping center is outdoors, the sidewalks adjoining all the stores will have to be in great condition. Concrete pathways made by Dornbrook Construction will work best for your business. In winter, it will be easier to clear snow from flat, level concrete.
Check out our commercial concrete gallery to see some of our past work with flooring, sidewalk, and driveway installation in southeast Wisconsin.