Concrete Floors in Restaurants, Bars, and Coffee Shops
Keep Floors Clean with Commercial Concrete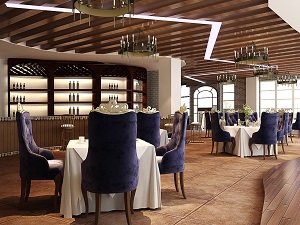 Atmosphere is everything for restaurants, bars, and coffee shops. For a great looking and high functioning floor, turn to the expertly installed concrete of Dornbrook Construction. Concrete gives food service locations strength and durability without sacrificing appearance.
Eateries all deal with lots of foot traffic during operating hours. This can wear down carpet and wood, ruining the appearance of your floors. Concrete is made to withstand heavy usage, making it ideal for any commercial location. It also doesn't need much maintenance, often lasting up to 30 years.

Concrete Patios, Walkways, and Parking Areas in Milwaukee
The dining experience for your patrons begins the moment they arrive at your restaurant. Make sure to show them a warm welcome with concrete sidewalks, parking lots, and dining patios. Smooth concrete installed by Dornbrook contractors keeps walkways to your eatery level and safe. Concrete parking spaces are incredibly durable when dealing with vehicle traffic all day.
Outdoor seating is a great way to increase your serving capacity without building an expansion. Even though Wisconsin weather might limit outdoor dining, having the option during summer is a huge draw. See some of our past indoor and outdoor concrete installation work now.
Contact Dornbrook Construction for a free estimate on concrete flooring for your restaurant.