Residential Epoxy Floors
Basement and Garage Home Improvement Projects Benefit from Epoxy Coatings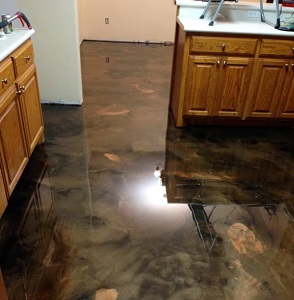 Residential epoxy floors are on the rise, due to their convenient installation and beautiful finished look. While these floors are usually found in basements or garages, they can be featured throughout your Milwaukee home. Designer epoxy floors are available in a variety of colors, patterns, and stains, letting you completely customize your next concrete construction project.
How do epoxy floors work?
Epoxy coating is created by combining resins and hardeners to form a strong, firm flooring surface. Epoxy floor coatings provide premium decorative flooring solutions in homes, resistant to heavy wear and tear. Due to its industrial strength features, epoxy floors are utilized for a variety of applications.
After application, epoxy coating hardens and thickens, resulting in incredibly durable and resilient flooring. Once fully cured, epoxy floors can withstand heavy impacts, chipping, chemicals, staining and surface abrasion. With an epoxy garage floor, there's no more worrying about damaging your floor if you drop a tool or spill oil.
Advantages of Epoxy Floors in Homes
Easy to Maintain
Long Lasting Durability
Aesthetic Appearance
When researching different flooring options for your home, it's important to know the benefits of epoxy. With an epoxy floor, you won't have to worry about stains or damage from everyday wear and tear. These floors last for years, and the smooth finish allows for easy cleaning through sweeping or mopping. Colorful carpets, while offering insulation, are easily ruined by stains or moisture. Hard wood flooring can be scratched or gouged by furniture and foot traffic. Both of these floor types require more care and maintenance than our epoxy coatings.
Dornbrook contractors are able to add epoxy coatings over existing concrete or wood subfloors. This will cover up underlying damage or imperfections. The durable coat resists damage from stains, chipping, and impact. That means no stains like from carpets and no gouges like on wood.

Epoxy and Wisconsin – A Perfect Match
Epoxy coatings help your floors resist moisture and related damage. During Wisconsin winter, lots of snow gets trekked into the house. This can cause wood floors to warp and carpet to stain from road salt. Epoxy overlays will prevent this common Wisconsin problem from ruining your floors.
Best Places for Epoxy Floors in Your Home
Basement
Garage
Kitchen
Bathroom
Basements
Finished basements are fast becoming a mainstay in Wisconsin homes. Many families are taking advantage of these areas for game rooms, kid's play areas, or even extra bedrooms. While carpets may warm up a basement space, it can be easily ruined by flooding. a second living space for many families thus requiring a durable flooring solution that is also visually appealing. Epoxy coatings are offered in a variety of patterns, designs and colors to perfectly complement your home's décor while resisting wear and tear.
Garage
Everything from gasoline and oil to coolant and anti-freeze can be easily mopped up from an epoxy floor without leaving a trace behind. If your car has a leak, your floor won't be ruined by harsh chemicals. If your garage is used more for storage or as a workroom, the reliable epoxy will keep the floor safe from falling tools or supplies.
Kitchen
Whether you're an amateur chef or experienced food connoisseur, adding epoxy floors to your kitchen will make cleaning and maintenance easy. You won't have to worry about dropped knives, broken eggs, or spilled milk ruining your floor.
Bathroom
Bathroom floors do not have to be limited to tile or linoleum. The high quality colors and finish will make your bathroom look amazing.
How to Clean an Epoxy Floor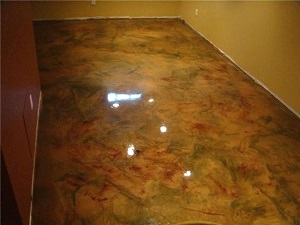 A regular dust mop is recommended for collecting dust, dirt, and dry debris from the floor's surface. For liquid spills, a soft towel is all you need to clean up the mess. If the liquid has dried, gently scrape off the substance and use a damp cloth to wipe up any remaining marks.
For deep cleaning sessions, mopping is recommended. Flat mops offer the best finish, either when used with disposable cleaning pads or with hot water. Make sure to dry the floor with a clean cloth to prevent slipping. Avoid soap, vinegar, and citrus based cleaners as these can ruin the finish of your floor.
Transform your home with Dornbrook Construction and epoxy flooring. You no longer have to settle for gray concrete. View some of our past epoxy work to get an idea of what we can do for your home.
Contact the residential epoxy coat experts of Dornbrook Construction today to get an estimate on your flooring project.