Milwaukee Epoxy Floor Coating for Stunning Slabs
Decorative Concrete for Ordinary Flooring
Dornbrook Construction will turn your plain gray concrete from ordinary to extraordinary! Our Milwaukee epoxy floor contractors specialize in decorative concrete resurfacing for indoor, outdoor, commercial and residential settings.
Below are just a few of our epoxy coatings and overlay services:
Designer epoxy floors
Metallic epoxy floors
Surface prep
Commercial/Industrial epoxy floor coatings

Our unique concrete flooring systems create high quality, durable surfaces which are easy to maintain and sure to impress! Our Milwaukee flooring systems can be installed over existing concrete, interior or exterior, and even over your wood subfloors.
Epoxy coating is a flooring system comprised of both resins and hardeners. When combined, these two components create a strong, firm surface which binds well to concrete flooring and most other substrates. Epoxy floor coatings provide premium decorative flooring solutions, resistant to heavy wear and tear. Due to its industrial strength features, epoxy floors are utilized for a variety of applications. From hospitals to restaurants, Dornbrook Construction has extensive experience installing epoxy floors throughout Southeastern Wisconsin, for a wide-range of applications.
Contact Wauwatosa's concrete contractors today for a free estimate on your flooring transformation.
Benefits of Epoxy Floors
Aesthetical Appeal - Epoxy flooring options are available in a variety of attractive colors which allow homeowners and business owners to incorporate a unique design into their flooring - without compromising quality.
Low Maintenance – Epoxy flooring is ideal for a number of flooring applications due to its easy cleaning features. Epoxy floors have a smooth surface, allowing for quick wipe ups when needed. Easily remove dust, dirt, or debris and have a hygienic, dirt and germ free surface when you choose epoxy.
Durability - Epoxy coatings result in a durable surface perfect for nearly any application. A Dornbrook Construction epoxy floor will last for years to come, even when used in high traffic areas.
Easy Installation - Epoxy coatings are quick and easy to apply and can be installed over new or old concrete floors. Regardless of the current condition of your flooring, epoxy floors offer simple installation solutions.
Epoxy Applications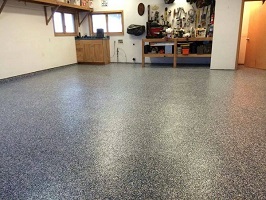 Epoxy floors are becoming increasingly popular in homes, most commonly found in basements and garages. After application, epoxy coating hardens and thickens, resulting in an incredibly durable and resilient flooring. Epoxy floors can withstand heavy impacts, chipping, chemicals, staining and surface abrasion. With an epoxy garage floor, no more worrying about damaging your floor if you drop a tool or spill oil.
Basements are becoming a second living space for many families thus requiring a durable flooring solution that is also visually appealing. Epoxy coatings are offered in a variety of patterns, designs and colors to perfectly complement your home's décor while resisting wear and tear.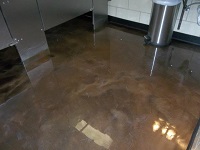 Epoxy floors are often used in commercial buildings. Retail stores and restaurants find epoxy floors the most appropriate flooring solution, due to its industrial strength and low maintenance requirements. An epoxy flooring not only looks nice, it provides business owners with a multitude of time and money saving benefits.
Epoxy floor systems are highly durable and long-lasting, able to resist heavy machinery traffic, chemical abrasion and repetitive cleaning. Since epoxy floors are non-porous, contaminants like dirt and mold have nowhere to settle in. Epoxy floors are non-slippery, offering a safe flooring solution. With various non-slip coatings and textured finish options, epoxy coatings can be even safer.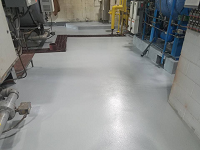 Epoxy flooring is ideal in industrial settings including warehouses, hospitals and factories. A major concern for healthcare facilities is sanitation. Epoxy floors are one of the most sanitary floor options available. Epoxy is a non-porous flooring option, resistant to chipping, which means bacteria has nowhere to grow. The low maintenance cleaning requirements are also highly ideal for hospital floors which undergo repetitive cleaning.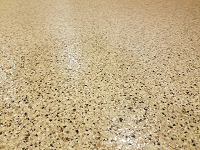 City and state institutions choose epoxy floors for their durable characteristics. With the high volume of movement colleges and schools receive, epoxy coatings resist wear and tear while looking more appealing than most other flooring options. Additionally, institutions choose epoxy floors due to their safety features. With the amount of foot traffic institutions receive, it's important for schools to provide the safest flooring option.