Improve Your Wisconsin Home with Dornbrook Concrete
Spring is the Perfect Time for Milwaukee's Decorative Concrete Projects
With spring finally arriving in Wisconsin, the time for home improvement is upon us. The rising temperatures and sunny days mean it's time to focus on outdoor projects like driveway maintenance and patio installation. Dornbrook Construction is ready to repair and improve your home or business concrete after the long winter season.
Residential Concrete Services for Spring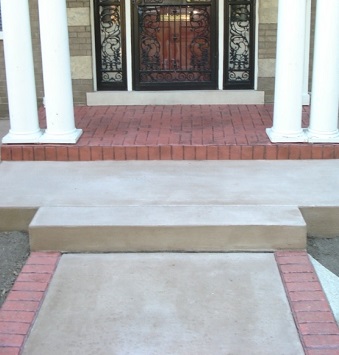 Exterior home improvement projects benefit from warm weather, both for the contractors and the homeowners. In Wisconsin, the cold can make for difficult work conditions. Dornbrook is able to repair deterioration, cracks, and raised slabs with greater accuracy and efficiency in warm weather.
Resurfacing requires 7 days of curing before your garage floor is useable again. Redoing your entire driveway will take longer, depending on whether you want decorative features as well. For this reason, we recommend spring and summer driveway projects as it will have less of an impact on your daily routines.
Adding a pool deck or patio to your home is another project ideal for spring. A beautiful sidewalk can wrap around your property or a new entryway will wow visitors. If you already have concrete patios or walkways, Dornbrook contractors perform stamped concrete overlays to make your existing concrete features stand out.
This is also the time to turn your basement into a living space for your family. Our residential epoxy floor installations make basements beautiful and durable for years of use. Make a playroom for the kids or transform your basement into a cool home theater to escape the heat. An epoxy floor is capable of withstanding impact, chipping, and staining or abrasion from chemicals. Maintenance is minimal, letting you enjoy your great looking floor.
Spring Season Commercial Concrete Services in Milwaukee
Summer is the season so vacation, meaning many Wisconsin businesses will find themselves with mostly empty offices and commercial facilities. With plenty of workers already away, it's the ideal time for business owners to schedule interior and exterior maintenance and improvements with Dornbrook Construction.
Whether you're in need of concrete repairs or just want decorative concrete and masonry work, Dornbrook is your resource for high quality concrete and epoxy work. Any interior room with heavy foot traffic will benefit from the strength and durability of a visually appealing epoxy floor. With non-slip coatings, epoxy is also safer for bathrooms and kitchens. And being non-porous makes cleaning easy for use in the healthcare industry.