Concrete Patio Ideas from your Local Concrete Contractors
For Concrete Patio Resurfacing and New Patio Stain Ideas, Step this Way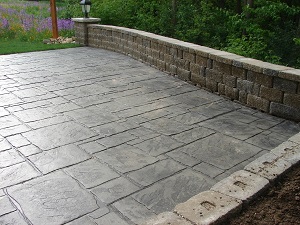 Whether you're planning a complete back yard transformation or simply want to remodel your existing patio, Dornbrook Construction has a variety of concrete patio ideas. Patios are a great opportunity to add value to your home and provide years of enjoyment. From relaxing and watching your favorite birds to entertaining family and friends, patios offer an affordable and gratifying living space. If you're considering installing a new concrete patio, turn to Dornbrook Construction for all your concrete needs. Whether you're looking for a traditional brick patio or a high-end decorative concrete patio, the Dornbrook team has extensive experience designing and installing patios throughout Southeast Wisconsin. From stamped to colored concrete designs, our patio contractors will work with you from concept to completion, ensuring all your needs are met. Prior to starting the job, we will provide a concrete patio cost estimate, making certain we stay within the given budget.
If you are a do-it-yourself kind of person, continue reading for some of our favorite concrete patio ideas or gather some inspiration and let the work be done by our professional concrete contractors.
Patio Transformations for your Outdoor Space
Concrete Patio Stain Ideas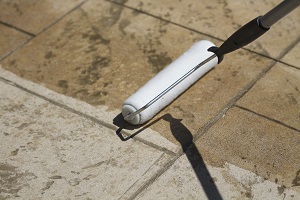 Adding a new stain to your patio will transform your ordinary grey slab into a stunning piece of work. If you have an existing patio in need of a makeover, there are a number of ways this can be done. Staining your patio is a common, affordable option to give your existing patio a quick, modern update. Simply follow the below steps and you'll have a like-new patio in no time at all.
Choose a color – Visit your local hardware store and select a color of stain. There are a variety of coverage levels and stain options. From semi- transparent to opaque, the results are significantly different so be sure you know what you want. Testing a small area of your patio is a great way to be sure the results meet your expectations. Be sure to address any questions with staff members and follow manufacturer's instructions precisely when applying the stain.
Prepare your concrete – Before doing any staining you will need to remove any furniture, plants, etc. from your patio. You will also need to thoroughly clean your concrete patio with a hose or pressure washer to remove dirt, debris and stains. Upon washing, you will need to let the concrete completely dry. This typically takes 24 hours. This is a crucial step to follow to ensure your stain adheres correctly.
Apply the stain – Once the concrete has dried you can start applying the stain with a brush. Start by applying the stain along the perimeter edge and seams. Make certain you do not apply the stain in direct sun - the stain will dry too quickly not allowing you to blend your strokes.
Replace furniture – Wait a minimum of 24 hours for the stain to dry before you place furniture on it.

Resurfacing your Patio – Give your Concrete New Life
After years of wear and tear, concrete will become spalled and discolored. Resurfacing your concrete patio is a cost-effective technique to obtaining a durable and wear resistance solution to your aging concrete. Resurfacing can be completed on your own, you simply need the correct materials and tools and follow the proper steps.
Below you will find a brief overview of how to resurface your concrete patio.
Cleaning your concrete - Prior to applying the resurfacing product you will need to thoroughly clean your patio. A high strength pressure washer is recommended to ensure all dirt and debris is removed.
Purchase your materials and tools – You will need to purchase enough resurfacing material along with the necessary tools to properly resurface your patio.
Repairing your concrete – Be sure to repair any cracks prior to resurfacing.
Mix material – Mix material according to the manufacturer's instructions. Make certain the mixture is not too thick or too thin.
Apply – Pour the material onto the concrete in one-foot wide strips.
Resurfacing finish – Apply a non-slip finish using a concrete broom after concrete resurfacing is complete. Broom strokes must be made in the same direction for an even, uniformed look.
Post care - If temperatures rise above 90 degrees, it's important to moist the concrete with a fine mist for 24-48 hours. Ideal temperatures should remain above 50 degrees and protected from freezing temperatures.

Keep foot traffic off of your newly resurfaced patio for a minimum of 6 hours after.
Browse our gallery now to see some of our recent concrete patio installations and resurfacing jobs. Dornbrook Construction serves southeastern Wisconsin residents and business owners with top tier concrete solutions.