Menomonee Falls Concrete Contractors Know Epoxy
Epoxy Floors Add Value
Getting epoxy flooring just makes sense. It's like having stainless steel appliances or granite countertops; they add value.
Benefits of Epoxy Flooring
Epoxy floorings are extremely durable. If you wanted to, you could resurface all of your floors, and they would probably last for as long as the house does.
Epoxy floorings won't stain. Spill whatever you want on epoxy floors; you won't stain them.
Epoxy floors are easy to clean. Grab a paper towel. Grab a squeegee. Just sop up the liquid or sweep up the debris. It's that easy.
Epoxy Flooring for Garages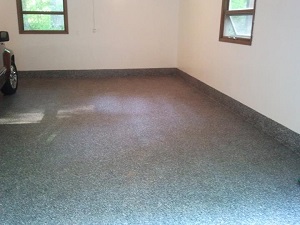 A garage is typically the place where oil gets changed, parts get replaced, items get stored and most traffic through the house travels from. With an epoxy flooring, wear and tear doesn't stand a chance.
Spill your oil, but it wipes right off. Drop your tools, but they won't dent the surface. Save money to replace your garage floor in a few years, but you'll just get to use it for a vacation. Epoxy floors last curiously long.
Epoxy Floor Design Ideas:
Get a light-colored garage floor to make dropped nuts, bolts, or other small pieces, and spills more easily visible. Safety first.
Basements Floors
Basements often collect a lot of the building's moisture, resulting in a musty smell. The moisture gets trapped in your carpeting or in the wood. With epoxy flooring, you don't have to worry about mold growing in your carpet or wood. The flooring is unaffected by moisture.
Epoxy floors are also a great way add your personal style to your home. From a vast amount of color and design options the possibilities are endless. From your choice of patterns to two-toned options, our Menomonee Falls epoxy floor contractors have the expertise to make your visions real.
Recreation Rooms
Maybe your recreation room is in the basement. Great! You're getting two birds with one stone. Epoxy floors are extremely easy to clean. We're not promoting dirty lifestyles, but this flooring is very forgiving.
Spill soda, water, wine, beer, oil, soups, or any type of dressing or dip you can think of. Whatever it is, just can wipe it right up. Same goes for sticky foods. You may need some sort of a mild solvent, but you don't have to worry about it permanently sticking to your epoxy flooring.
Epoxy Flooring for Patios, Porches or Decks
One thing you'll never have to do to your patio, porch, or deck ever again is pressure wash it. Whatever gets on your epoxy flooring can be swept or sprayed right off. You can also create the illusion of real stone with an epoxy floor.
Epoxy Floors for a Bar or Kitchen
Everything gets spilled in a kitchen. Blenders get run without the tops on. People grab pizza pans without using protective layering. Wine gets drank, and then spilt. Batter and dough get dropped. Kids get into the flour and dogs tend to drool. An epoxy flooring is a great solution for your bar or kitchen.
Residential & Commercial Epoxy Flooring Installation
Epoxy flooring is great for all imaginable purposes. Staying clean has never been easier than when you have epoxy flooring. Sweep or swipe. That's all it takes. These floors won't yellow or crack. They won't stain. Epoxy floors add value, and don't need replacing.
Contact te Menomonee Falls epoxy flooring contractors to get a free estimate on your home improvement needs today.