Types of Decorative Concrete
Create Texture, Style and Functionality with Stamped Overlays and More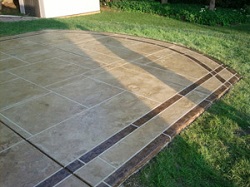 Many homeowners are improving the look of their home's exteriors by installing decorative concrete as opposed to ordinary concrete slabs. Decorative concrete is becoming increasingly popular for driveways, walkways and patio installations. When deciding on what type of concrete to install for your home, it's important to know the various types of decorative concrete applications available.

Acid Stain
Acid staining is a common decorative concrete application utilized to dress up ordinary concrete. Acid stain pigments soak deep into concrete pores thus permanently changing the color of the concrete. The staining process is known for its capabilities to bring out a concrete's natural beauty as opposed to disguising it.
Concrete stain does more than simply add color; it infuses translucent tones that vary in color leaving a truly one-of-a-kind finish to your floor. The distinctive finish of acid staining is often described as antiqued, variegated or mottled. Even when treated with the same staining product and color, no two concrete floors will look similar. Factors like the composition, age and surface porosity will all contribute to the overall end finish.
Not only does acid staining create a glossy, elegant surface it maintains concrete's industrial characteristics of withstanding heavy foot traffic and wear and tear. Acid stain finishes are commonly found in museums, hotels, restaurants, outdoor walkways and patios.
Trowel-on
Trowel down is another concrete finishing method which produces intensely colored concrete and produces natural variations in color. The process involves adding a thin layer of wear-resistant cement by artistically troweling to replicate the patterns of natural slate or other various stone finishes. Inconsistent troweling is the most common cause of color variation while controlling the application will result in a uniformed color.
Stamped Overlays
Stamped overlays allow you to achieve a high-end look for a lot less. Create a concrete finish which resembles stone, brick, slate, cobblestone, brick or even products found in nature like wood, shells and other elements. Stamped concrete is laid in one single uniform pour so unlike stone and brick, there is no risk of grass, weeds, and dirt developing between pieces. Stamped overlays are one of the most common types of decorative concrete for its affordability and low maintenance qualities. The look is completed by adding a thin layer of wear-resistant texture on top of your concrete and "stamped" on with a texture of choice.
Knockdowns
Adding knockdown over your concrete is a great way to add texture and character to your concrete flooring while also ensuring safety. A knockdown application creates texture which not only enhances the appearance of concrete, it creates a non-slip surface. Knockdown is commonly used for pool areas, decks, garage floors and other various areas where slipping could be of concern.
Decorative Concrete Contractors
If your concrete needs a facelift, consider hiring Dornbrook Construction for a high quality decorative concrete application today! We will transform your ordinary concrete into a work of art. With the endless possibilities decorative concrete has to offer, we will install the flooring you desire to match your taste and your budget.
For more information on decorative concrete options, contact our concrete contractors today.